It has been quite a while since my last post so here's just another post to show I'm still active.
To many of us, flash drives are just flash drives..cheap and reliable data storage devices for on the go use. For many of us, size doesn't really matter. However, for the rest of us, especially me, a small flash drive size is very important. I have gone through a lot of flash drives. Some just keeps breaking. The case cracks or the drive itself becomes loose from the case. Either way, they are just not durable enough.
Luckily, I found a collection of small and sturdy flash drives that will not break or show signs of weakness. These flash drives are capless, non-retractable, and do not use swivel lids.
1. Sandisk Cruzer Fit
Yes, this flash drive does have a cap, however, its design makes it very durable. First of all, it does not retract or have a case, which means less likely for it to crack and break. Unfortunately, it uses a USB 2.0 port so read and write speeds are reduced significantly. Also, the SecureAccess software by Sandisk is poorly built, which means you will have to find an alternative file encryption utility.
2. LaCie MosKeyto
It's small, it's easy to misplace, but it is still a must have! This drive is perfect for laptop users. It is tiny, it doesn't take much space, and it is well built.
3. Verbatim Store-N-Go/ Store-N-Stay/ TUFF-N-TINY
So why these three? What do these three flash drives by Verbatim share? They all have a rugged and durable design. No caps to lose, no casing to crack, and no loose parts. Once again, unfortunately, they all use a 2.0 interface.
4. Kingston DataTraveler Micro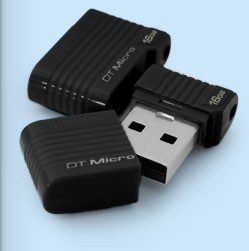 Once again, small and sturdy. Kingston is a reliable brand, but probably not the best there is. Nevertheless, great for in the car and on the run use.
5. PQI U819V
Small and sturdy, but it has a cap. The casing fits right on the flash drive. Basically, no empty space is present for the actual drive to get loose. This is one of the smallest USB 3.0 flash drives, but not the smallest.
6. Apacer AH152
This is the smallest USB 3.0 flash drive out there. It uses COB (Chip on Board) technology for efficiency and speed. Also, it has less chances of breaking. Unfortunately, it does not have a cap for external protection. However, if you are just going to stick this on a laptop and leave it there, then this would definitely be the one.